Long Creek Herbs Contact Info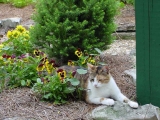 Long Creek Herbs is located between Branson and Eureka Springs in the heart of the Ozarks.
Our Mailing Address:
Long Creek Herbs
P.O. Box 127
Blue Eye, Missouri 65611
USA
PHONE: (417) 779-5450
(Phones answered Mon-Fri, 8:00 a.m. to 5:00 p.m., Central Time)
Please fill out all Required Fields with (*) otherwise your form will not be submitted.
(We do not share your contact information with anyone).