Visiting Long Creek Herbs
Details about Visiting Long Creek Herb Farm in 2017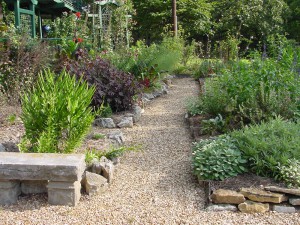 Because we grow unusual herbs and vegetables we are considered a destination for serious gardeners and are open only by advance reservation. (Our apologies but we discourage folks from visiting who are just curious because of having seen a story in a newspaper or magazine, and aren't interested in gardening.) Sorry but we don't sell seeds or plants – you can find our recommendations for those by clicking on our "Looking for Plants?" button elsewhere on our website.
We gladly share our gardening expertise and experience with those who are interested in herbs and gardening. Those of you who read Jim Long's magazine articles and books know we are passionate about many things related to gardening, herbs, cooking and organics.
This year we have been blessed with favorable write-ups in a variety of publications. There are only so many hours in each day, and this growing season was already pretty full with writing projects, garden apprentices, pre-scheduled events and our own lecture trips away. With that in mind, here are details about visiting. (More dates for visiting will be added a bit later).
Saturday, June 17, 9:00 a.m.-3:00 p.m., is our Annual Garden & Herb Shop Open House, when visitors can come without a reservation or a fee. The shop will be stocked with our popular products and books, and the gardens should be at the height of their early summer beauty. Come and enjoy what is always a fun and festive day with fellow garden enthusiasts in an informal atmosphere on the farm. Stroll the gardens, ask questions, take photos and rub elbows with other gardeners and herb folks.
We will be offering several days during the season when the general public can call to pre-arrange visits to the gardens and shop. Average visits, including the walking tour and time to visit, ask questions, take photos and browse in the shop, with light refreshments, lasts about 2 hours. We take an advance reservation fee of $25 (per carload of folks, up to 6 people) by credit card. Call at least 2 weeks, or more, in advance. The person making the reservation can spend the $25 in the shop after the tour. For larger groups and special tours, call for pricing and tour options.
CALL AS SOON AS POSSIBLE if you intend to visit this season; we expect the limited number of appointment times available to fill up fast in light of recent publicity. If you schedule a visit with a group fewer than six, your appointment time may be shared with other visitors.
417-779-5450 Phones answered Monday-Friday 8-5, Central time.
We're located between Blue Eye, Missouri, on the Missouri/Arkansas border, and Eureka Springs, Arkansas. With your reservation confirmation we will send you a map and directions and it is helpful to have your email address in order to send the map. (You will definitely need the map to find us). We don't accept drop-in visitors to the garden, sorry.
Available Dates for Garden Tours by Appointment for 2017:
We will be posting specific dates for reservations closer to the garden season.
For special group tours, garden clubs, etc., we offer several options including a guided tour with workshop, special events or picnics. Inquire for availability and pricing and tell us the number in your group with yo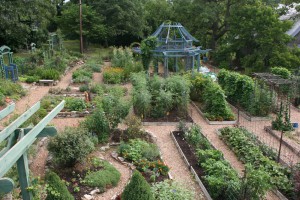 ur inquiry.
We are grateful and fortunate that our gardens and foods at Long Creek Herb Farm have appear
ed in these publications: Southern Living (twice), Gourmet, Better Homes & Gardens Garden, Deck & Landscape, U.S. News & World Report Travel Video, and many, many more.