Long Creek Herbs Contact Information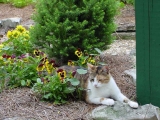 Long Creek Herbs is located between Branson and Eureka Springs in the heart of the Ozarks. Visiting is by reservation only (see our Want to Visit? link elsewhere on our website for details). We don't accept drop-in visitors, sorry.
Our Mailing Address:
Long Creek Herbs
P.O. Box 127
Blue Eye, Missouri 65611
USA
PHONE: (417) 779-5450
(Phones answered Mon-Fri, 8:00 a.m. to 5:00 p.m., Central Time)
Please fill out all Required Fields with (*) otherwise your form will not be submitted.
(We do not share your contact information with anyone).