Want to Visit Long Creek Herbs?
Here are details about Visiting Long Creek Herb Farm in 2021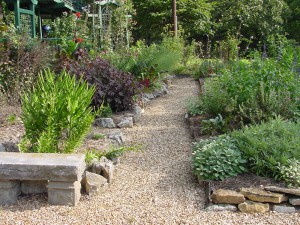 Our gardens at Long Creek Herb Farm and our recipes, have been featured in Southern Living (twice), Gourmet, Better Homes & Gardens Garden, Deck & Landscape, a U.S. News & World Report Travel Video and P. Allen Smith Gardens and many others.
We annually grow a wide selection of unusual herbs and vegetables and are therefore primarily a destination for serious gardeners. We are open only by advance reservation. We do not sell seeds or plants – you can find our recommendations for those by clicking on the "Looking for Plants?" button.
We gladly share our gardening expertise and experience with those who are interested in herbs and gardening. Those who are familiar with Jim Long's magazine articles over the past 30 years as well as the many books he has written know we are passionate about gardening, herbs, cooking, and organics.
This past year with all of us dealing with the pandemic, has left us missing our visitors and friends. Hopefully life will be returning to something near normal this year, but it is hard to predict if we will be able to accept visitors to the garden, therefore, we aren't offering a schedule of possible dates for visits yet. Typically our arrangements for visiting are…
For one carload of folks – up to 5 people, the advance reservation fee is $25. On the day of the tour, the person who made the reservation can spend that $25 in our Herb Shop. Tours average 1 1/2 to 2 hours and include light herbal refreshments after the garden walk.
For the safety of visitors, as well as ourselves, we have canceled our 34th annual open house this year.

You are welcome to view our garden by way of our Virtual Garden Tour

Club Tours (in ordinary times)…
For groups of 6 or more, the advance reservation fee is $5 per person,  paid in advance, and refundable with purchases from the shop. No refunds for no-shows unless you notify us within 24 hours of the reservation time.
CALL SOON to reserve a date (417-779-5450, Mon-Fri, central time zone ) if you would like to visit us this season; we expect the limited number of appointment times available to fill up fast. If you schedule a visit with a group fewer than 5, your appointment time may be shared with other visitors.
We're located between Blue Eye, Missouri, and Eureka Springs, Arkansas. With your reservation confirmation, we will send you a map and directions and it is helpful to have your email address in order to send the map.
(You will definitely need the map to find us, and we don't accept drop-in visitors, sorry)

.